Engagement session
Congrats on your engagement! It's a very exciting time in your life. I hope you're still 'basking in the glow' even while you are in full-tilt planning mode!
There are many reasons to consider having an engagement session:
Capturing your love story at this unique point in your relationship. After this life changes in many ways (for the best, of course!). The romance between you should be documented, and doing this in the relaxing environment of your engagement session is a great way.


Getting comfortable in front of the camera. For many people this is the first professional photos they've had of the two of them, and most of the photos together are selfies! In addition to making you both look amazing, this session allows you to see how the process will work on your wedding day and to get used to working with me. It's only awkward for a few minutes at the most (I promise!), and it's common to feel self-conscious. I have experience with all shapes, sizes, and personalities, so I will figure out what approach is best.


Trials. If you're getting hair and make-up trials done, then why not combine that with your engagement session to look great for your photos and see how you look on camera.


Photos to use for your wedding. I work as quickly as I can after the session to process your photos and upload them to your online gallery. This helps with getting your Save-the-Dates out in the mail as quickly as possible, in case you are in a rush. I can also help select some that I think will work well. You can also use the photos to create a guest signing book. These are something I can design and print for you, so let me know if you are interested in one. You can also print some of the photos to put in your wedding reception, like on the signing table, on a mantle, or for personal centerpieces on the tables. The photos also make great gifts.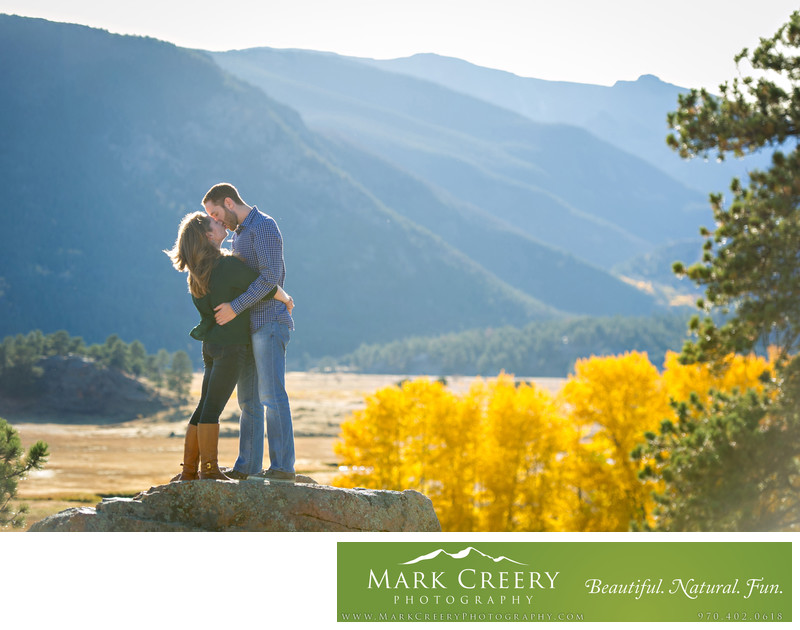 To explain how my engagement sessions usually work: they last around 90 minutes or so depending on how many different locations we go to and how much we explore. You can have several outfit changes if you want some different looks (which is nice for variety). See my engagement session clothing tips for my info. All the images you get from the session are in high-resolution and fully edited to look their best (including blemish removal if needed), and can be printed and shared as you like. I don't limit the number of images I give you and I capture lots of expression and candid moments as well as the beauty of the scenery, and it ends up being close to 150-200 images that you get.
In addition to these, I create some artistic versions of some of the 'wow' shots, including panoramas, vintage, sepia and other finishes. As well I create all the images in a custom black-and-white, so if you prefer an image that way you can choose. I treat the photos exactly the same as with weddings, so you'll know what to expect. You'll get an online gallery for download, sharing, and ordering a variety of products like canvases and additional prints. I can also design and print a guest signing book for you.
For pricing and availability please contact me and I will get in touch quickly!