Estes Park Wedding Photographer
Congratulations on choosing Estes Park, Colorado for your destination wedding location! If you're still considering it - don't hesitate any longer. It's an exciting place to be planning your wedding or elopement/micro-wedding. As a wedding photographer with intimate knowledge of the area and an eye for capturing the essence of the landscape, you can be sure I will provide you with the best photos to remember your mountain wedding by. Check out my wedding gallery to see my natural style that is perfectly suited for the outdoors. Let me help you plan your wedding by reaching out for a no-pressure chat, text or email. Or reach out the old fashion way at 970-402-0618. I am happy to provide personalized service for your unique event.
Wedding Locations in Estes Park
Located at 7,522 feet elevation, the small town of Estes Park attracts couples from all over the U.S. looking for the perfect venue for a destination wedding. Known by locals as just 'Estes', it's nestled among the peaks of the Rockies next to the world-famous Rocky Mountain National Park. There's no denying the charm and beauty that it offers. Only 6,000 people live here year-round, but the population swells in the summer to take advantage of all the area has to offer: hiking, biking, climbing, fishing, hunting, and the amazing wildlife to name a few. The weather is also very pleasant in the summer, often 10-20 degrees cooler than the hot Front Range with a fresh mountain breeze. Just beware of the afternoon thunderstorms that can sweep through the area quickly, especially if you're having an outdoor ceremony with no back-up. In that case try for a morning ceremony. Also, if you're traveling from sea-level make sure you arrive at least a few days before the wedding to acclimatize to the higher altitude, and make sure to drink plenty of water!
Herds of elk just casually stroll through town, and have made an appearance in several of my wedding and engagement photos. The aspen colors in the Fall are really a sight to behold, and make a striking backdrop for photography. There is such a variety in the landscape, from sheer cliffs, huge boulders, pine trees, grass, lakes, rivers, creeks... you name it! This is my favorite location to photograph weddings and engagements since I really connect to the landscape and spirit of the area.
There are so many great venues to choose from. They range from famous institutions like the Stanley Hotel, to grand lodges like Della Terra Mountain Chateau, to simple outdoors venues overlooking some of the most stunning scenery around. Other venues include the Black Canyon Inn, Taharaa Mountain Lodge, and Wild Basin Lodge. YMCA of the Rockies, Marys Lake Lodge, Fall River Lodge, Trout Haven Resorts, and Estes Park Resort.

Great outdoor ceremony locations for a simple event include Lily Lake and Moraine Park Amphitheater in Rocky Mountain National, Hermit Park Open Space (which has it's own covered picnic area for a casual reception), O'Connor Pavilion and Sprague Lake (perfect for elopements). For a church weddings, there are the YMCA and St. Bartholomew's Episcopal Church.
Real Weddings in Estes Park
Spring can be an interesting time for a wedding in Estes Park. In the photo below, Jessica and Luis got more than they bargained for with a foot of snow on their March wedding day after no snow on the ground the day before. As you can see it makes for an amazing scene if you're willing to brave the cold! The wedding took place at the YMCA of the Rockies.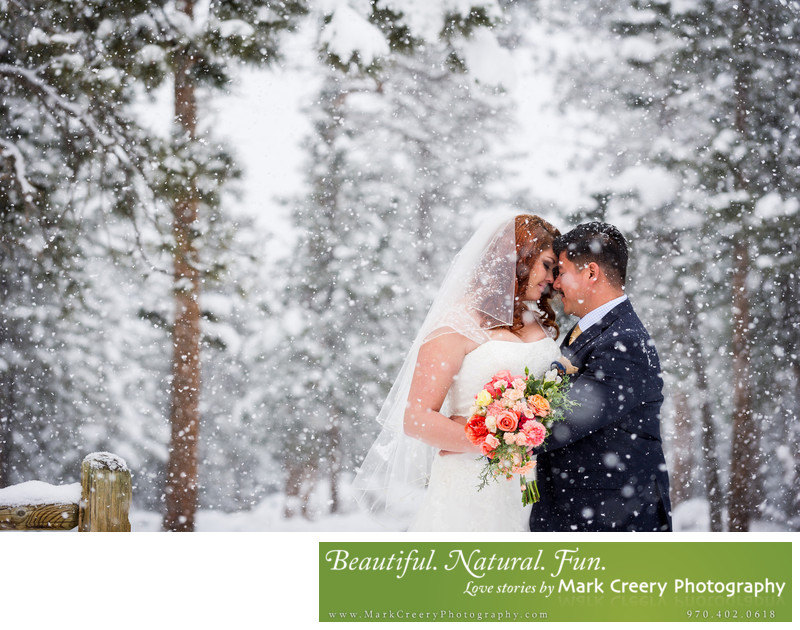 If you're lucky you could see some elk on the side of the road during your wedding photos like Katie and Brian did - at a safe distance, of course! Elk herds create what locals call an Estes Park traffic jam.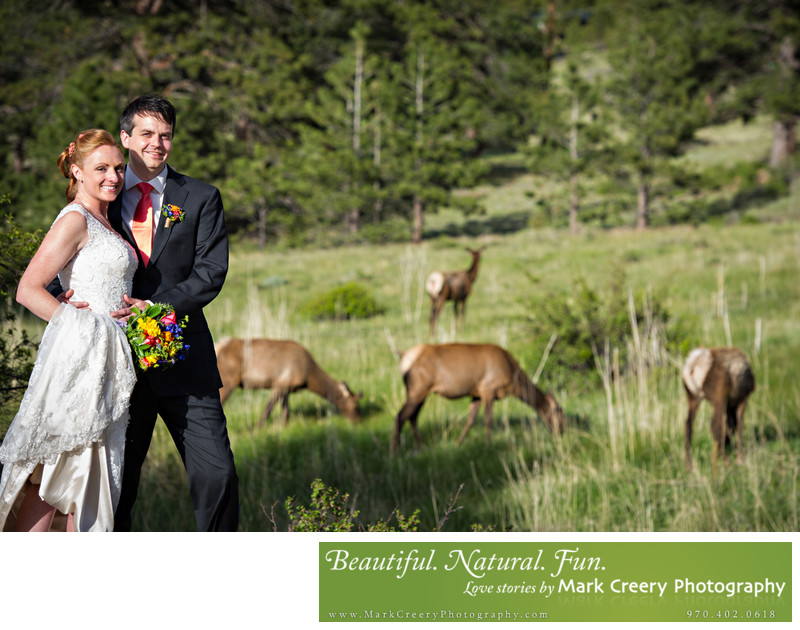 Haley and Justin had an intimate ceremony overlooking Lily Lake in Rocky Mountain National Park. I love making sweeping high-res panoramic photos from scenes like this. Check out my panoramas page for more of my signature work.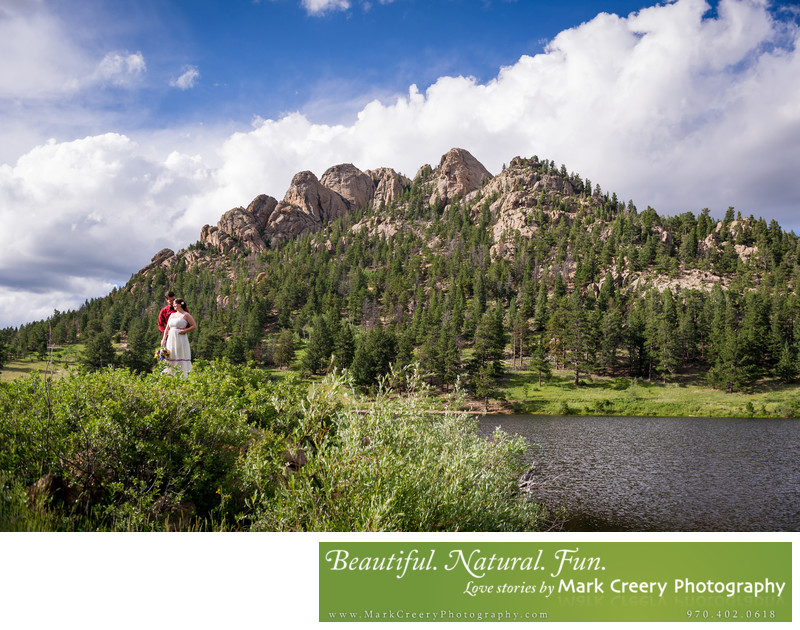 The Black Canyon Inn has it's own little island with a wooden bridge which is perfect for small weddings or First Looks, like these two love birds did.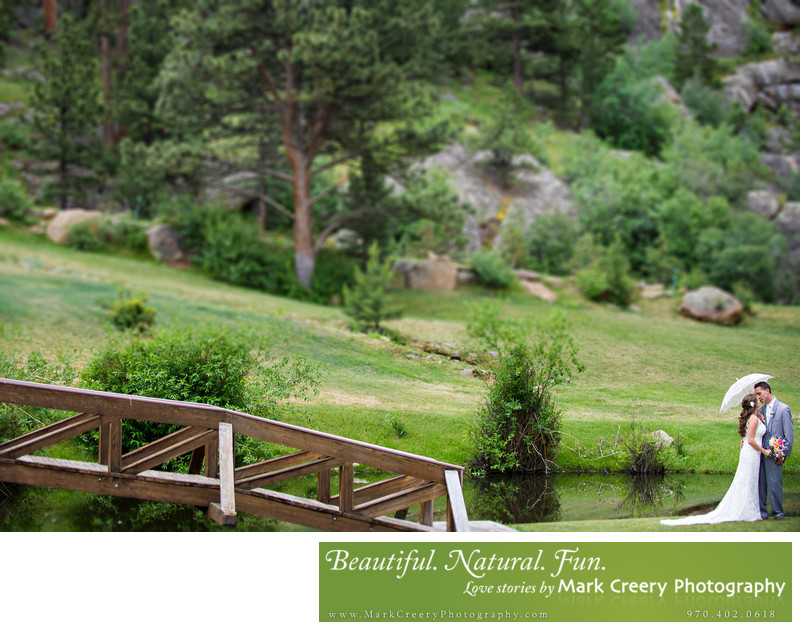 Moraine Park in Rocky Mountain National Park is a perfect spot for couples that are willing to walk a short distance for some outstanding views. Below, Lauren and Justin hiked with their trusty chacos and hiking books to the river's edge. I got down almostat water level to take this one to get a unique perspective and to make the landscape more prominent. Make sure you hire a professional photographer for your RMNP photos, as they need to have proper insurance and get the necessary permit to photograph in the park (if you are getting married in the park this permit is included in your fee).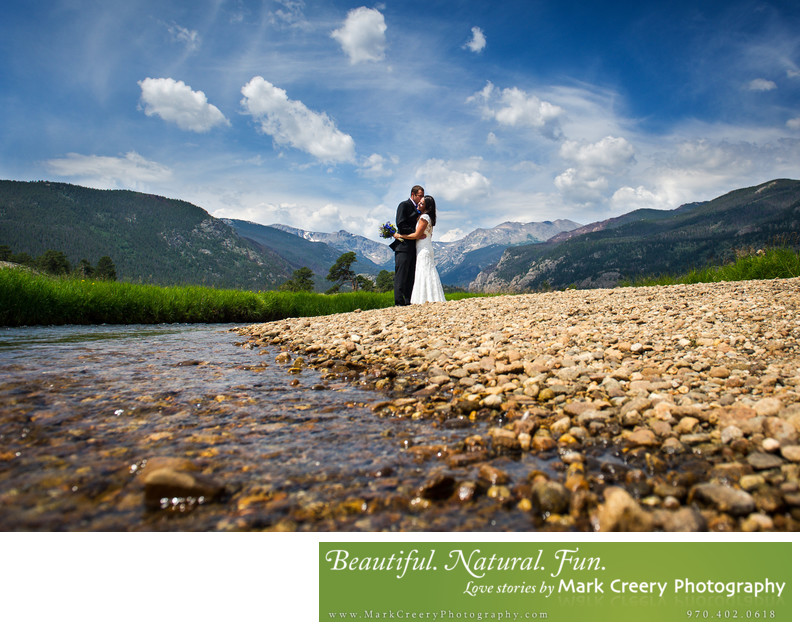 Here is what some happy couples had to say about their experience with me in Estes:

"Mark photographed our wedding in Estes Park. We planned the wedding from out of town, so we didn't actually meet until the day of the wedding. Mark was incredibly helpful and easy to work with. He kept in touch leading up to the wedding to make sure we had everything we needed to make the day go smoothly. Mark does incredible work and sent us a preview of a handful of our photos within a few days. We loved his work and would highly recommend him. " Debbie & Jacob at Della Terra Mountain Chateau

"Mark did our October wedding in Estes Park, Colorado. He made me feel so comfortable from the first time I spoke with him on the phone. He was willing to do whatever it took to make our day special. When the big day arrived, he was there early and took the most amazing pictures which captured our whole day. We ended up going to a couple different locations in Estes Park, and with each one he had creative ideas that turned out so beautiful! I could not have asked for a better photographer to work with and would highly recommend using him for any event!" Tracey & Curtis at Black Canyon Inn

See what other couples have said about my work on my reviews page.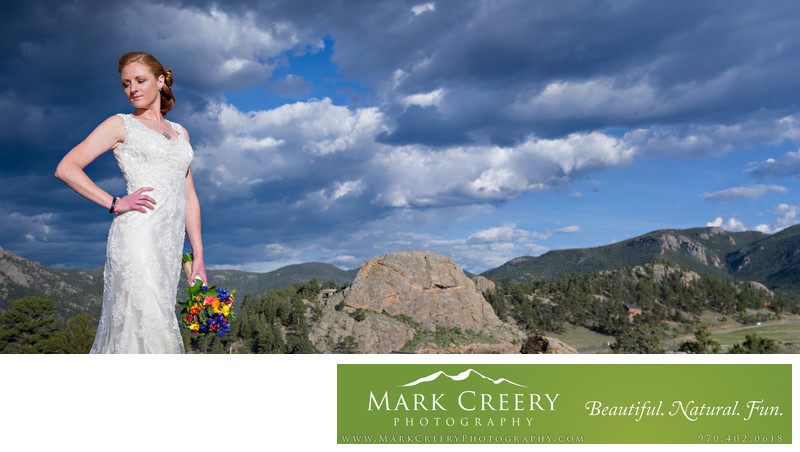 Estes Park wedding photographer